Part 2: Réjean "The Master of Disaster" Houle
God's Team had a Judas and his name was Houle.
It was a hard time for the Canadiens. They just finished the lockout season out of the playoffs, and had to make some serious decisions. Serge Savard believed the team needed a shakedown, so he did what he thought was logical, at the time. On February 9th, 1995, he dealt John LeClair, Eric Desjardins, and Gilbert Dionne to the Flyers for Mark Recchi, just Recchi. Two months later, he felt he didn't do enough. So he threw Mathieu Schneider, Kirk Muller and Craig Darby out the door to the Islanders (before Milbury got there) in return for Pierre Turgeon and Vladmir Malakhov.


But what was perhaps the best move Serge Savard did was what he didn't do. He didn't trade Patrick Roy.

There was a deal in place, however. Oh yes, Serge was ready to trade Patrick to Colorado in early October 1995, but the deal was much different. He had agreed to principle a deal that would send Patrick Roy to the Avalanche for Owen Nolan and Stephane Fiset. But something happened. The Habs went 0 and 4 in their first 4 games on the year, and the collective score was 20-4. That's right, they averaged 1 goal for, and 5 goals against, per game.

So the team had a different plan in tact. Fire Serge Savard. He then had to call up Pierre Lacroix, then GM of the Avalanche, and inform him they could no longer complete the deal because he was no longer employed. So Pierre did what every great general manager would do: wait for the next guy and offer less.

After he was fired, the Habs had 5 days off to find the replacements for the coaching staff and the general manager position. Steve Shutt and Jacques Laperriere took over behind the bench and lost to the Islanders 2-0. They were going to be behind the bench for their matchup against the Leafs the following night as well, with the team announcing the new team on Sunday morning, but the new team made a fuss and was announced the next day, prior to the game.

In came Mario Tremblay and Yvon Cournoyer on the bench, and Réjean Houle in the press box. That's when magic began to happen. I like to say "magic" because there's really no other way to explain how easily Houle managed to turn the team into a walking disaster.



"For my next trick, I will make our fan base DISAPPEAR!"
It was something no one could have seen coming. He first decided to welcome himself to the team by making a few minor moves. He acquired Pat Jablonski and an 8th round pick. Nothing spectacular, nothing crazy. Woops, spoke too soon. Just 2 weeks after acquiring the 8th round pick, Houle sat back and thought "you know who would look awesome on this team? Jocelyn Thibault."
So he did what every logical general manager would do, he dealt away a few draft picks to get a solid back up tender to Patrick Roy. Oh wait, no he didn't, he dealt Roy FOR Thibault. Like I said up top, Lacroix was waiting.
"Haha, yeah, I fucking rocked that deal."
It caught the world by surprise. Everyone knew Patrick Roy was having a hard time getting along with the anal-retentive Mario Tremblay, and instead of firing the coach, he decided to eliminate the problem in the dressing room by getting rid of the hall-of-fame goaltender. You know, because winning 2 Stanley Cups for the team at that point just wasn't enough of a commitment from a 30 year old goalie.
Seen Here: Pure Anal Retentiveness
He dealt Patrick Roy and Mike Keane to the Avalanche for Jocelyn Thibault, Andrei Kovalenko and Martin Rucinsky. Then people fell ill in Montreal, so Houle – proud of his accomplishment to just steal Thibault like that – decided to let the rest of the year slide.
Welcome to 1996. What better way to kick off a season than by making a 5 player trade? Well that's exactly what Houle did. He looked to correct Serge Savard's mistake by trading Pierre Turgeon, Rory Fitzpatrick, and, what the hell, throw in Craig freakin' Conroy for good measure to the Blues for Shayne Corson, Murray Baron, and a 5th. Now that they had Corson around, they wouldn't need a tough guy like Donald Brashear, so he sent him packing as well, to Vancouver for Jassen Cullimore.
People began to question his sanity, and while he was no longer making gigantic psychotic trades, he was still trading away the central core to what was supposed to be a winning franchise. But while they were struggling, the Avalanche were off winning Stanley Cups and having long awesome playoff series'.
In 1997, he finally made a decent move. He traded Murray Baron and Chris Murray to Phoenix for Dave Manson. We, at CFB, believe he did so because he personally hated anyone who's name is "Murray".
He hates you too, Bryan Murray.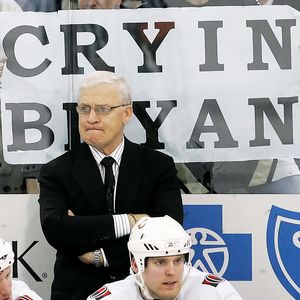 "I shwear, if there'sh a 'Cryin' Bryan' shign behind me I'm gunna loshe it!"
But after having Dave Manson on board for over a year, enough was enough, and Thibault wasn't half as good as he hoped. So he dealt them both, along with Brad Brown to Chicago for Jeff Hacket, Alain Nasreddine, and Eric Weinrich. It was a decent trade for Montreal. But it came after 2 other trades that had people wondering if he was senile.
In one deal, he dealt Valeri Bure and future considerations to Calgary for Zarley Zalapski, and Jonas Hoglund, yes, THE Jonas Hoglund (The Oldest Jonas Brother). We believe he did the deal because he badly wanted to call someone ZZ.
He also dealt Stephane Richer, Darcy Tucker and David Wilkie to the Lightning for Patrick Poulin, Igor Ulanov, and Mick Vukota. Houle was successfully putting together the "team with the strangest names".
1999 came around, and Houle realized the whole "Recchi" era was over. He realized any player able to score 322 points in 346 games was just not good enough to keep around, and besides, Vicent Damphousse was able to outscore Recchi, though marginally, twice out of those 5 seasons. He dealt Recchi to the Flyers for Dainus Zubrus and two conditional picks, a 2nd (Matt Carkner) and a 6th (Scott Selig). Zubrus totaled 74 points in 139 games as a member of the Canadiens. But Damphousse lead the way right? Wrong!
Just 6 days after he dealt Recchi, he realized they no longer needed Damphousse either. I mean, really, who needs leadership? He dealt him to San Jose for a 1st (Marcel Hossa) and a 5th (Marc-Andre Thinel). Hossa played a total of 49 games for the Habs collecting an impressive 15 points.
Seen Here: Future Habs First Round Pick
Then, 2 months later, his second greatest trade was made (the first was Roy, if you didn't notice that by now). The Habs sucked and finished with the 10th overall pick in 1999. Houle, knowing drafting was simply taking the easy way out, decided to trade the pick. He dealt it to the Islanders for the unfortunately oft-injured Trevor Linden. Linden, over 2 seasons as a Canadien, had appeared in just 107 games and registered only 66 points. The Islanders, while known for their incredible drafting skills, took Branislav Mezei with the pick. He was selected over the likes of Barrett Jackman, Nick Boynton, Martin Havlat, Mike Commodore, Jordan Leopold, and even Ryan Malone who the Habs opted not to draft in 3 straight rounds.
It wasn't until 2000, in his final season as the team's general manager, that Houle finally gave back to the team. He managed to deal off Vladimir Malakhov to the Devils for Sheldon Souray and Joshua DeWolf. It was almost a "too little too late" move, as considered by many fans who were still upset over the other disastrous trades.
Here's a quick look back at players the Habs decided not to draft under the Houle Helm.
First Round Flops:
1996: Montreal Selects Matt Higgins 18th overall.
Montreal passes over Marco Sturm, Daniel Briere, Cory Sarich, Steve Begin, Zdeno Chara, Michal Rozsival, Pavel Kubina, and Tomas Kaberle.
1997: Montreal Selects Jason Ward 11th overall.
Montreal passes over Marian Hossa, Scott Hannan, Brendan Morrow, Kristian Huselius, Maxim Afinogenov, Petr Sykora, and Matt Cooke.
1998: Montreal Selects Eric Chouinard 16th overall
Montreal passes over Robyn Regehr, Simon Gagne, Christian Backman, Mike Van Ryn, Scott Gomez, Jonathan Cheechoo, Mike Fisher, Brad Richards, Erik Cole, Brian Gionta, Shawn Horcoff, Trent Hunter, and Pavel Datsyuk.
1999: Pick dealt to Islanders.
2000: Montreal Selects Ron Hainsey 13th overall, and Marcel Hossa 16th overall.
Montreal passes over Alexander Frolov, Anton Volchenkov, Brad Boyes, Justin Williams, Antoine Vermette, John-Michael Liles, Roman Cechmanek, Henrik Lundqvist, Matthew Lombardi, Paul Gaustad, and Nick Schultz.
It's these decisions, the ability to break down a team to a core that would also be dealt away for very little return, and the decisions to skip over so many talented players to specifically draft French players and a few Europeans that have led to the Habs being an almost laughable organization for the 5 years he was there.
It's why Houle made it to our list of "worst general managers in NHL history".
Stay tuned for Part 3.
Micheal A. Aldred
michealaldred@hotmail.com